Why You Need to Upgrade Your Asphalt Sports Court to Concrete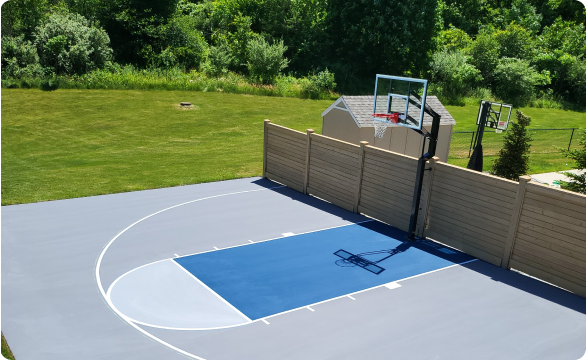 Are you tired of constantly patching up your asphalt sports court, only to find new cracks and wear? Or perhaps you're considering investing in a brand new court to take your game to the next level. Read on to learn why concrete would be the best choice for your new pickleball, basketball, or tennis court.
Cons of an Asphalt Sports Court
Having an asphalt sports court definitely provides a convenient space for various recreational activities; however, there are several drawbacks associated with this type of court that we need to explore, such as:
Freeze-and-Thaw Cycle
Michigan is no stranger to significant—and extreme—temperature variations throughout the year, with freezing winters and warm summers. That means if you have an asphalt court, you will need to constantly look for any signs of winter damage.
What type of damage? Well, when water seeps into the cracks and pores of the asphalt, it exerts pressure on the pavement when it freezes. Later on, the asphalt contracts as the ice melts, opening cracks and weakening the whole structure, making it prone to further damage.
Asphalt Keeps Moving
Asphalt has a degree of flexibility that allows it to expand and contract. This flexibility causes the asphalt to move up to a quarter of an inch throughout the day, especially during the summer months. These continuous contractions lead to large cracks over time.
Continuous Patching
Cracks and fissures are inevitable on asphalt courts, and investing in patching material is needed to maintain an optimal sports court, but it can get expensive in the long run.
If you're a fan of pickleball, this could be the main reason not to invest in an asphalt sports court. The patching material hinders the bounce of a hard pickleball, creating a death ball spin.
Pros of a Concrete Sports Court
Unlike Asphalt, concrete courts offer durability, stability, and longevity. These qualities are an asset for Michigan's extreme seasons. Here are a few of the reasons why you should invest in concrete courts:
Resilience to Climate Damage
Unlike asphalt, concrete sports courts are highly resistant to climate damage. Whether you're facing scorching summers or freezing winters, concrete is less prone to cracking or warping.
Stability and Minimal Movement
Another advantage of concrete is that it doesn't move as much as asphalt. Concrete is a rigid material that remains stable and maintains its original shape and dimensions over time. This stability ensures a consistently smooth and level playing surface without the mounting costs of patching.
A Long-Lasting Material
Durability is a key aspect to consider when investing in a sports court, and concrete delivers exceptional longevity. With proper installation, regular maintenance, and occasional resurfacing, a well-constructed concrete sports court can last up to 20 years or even longer.
Why Choose Spartan Sports Services?
As climate change hits Michigan harder, you need on your side the most experienced team to build outdoor courts that endure a rough climate. Spartan Sports Services has professionals with an average of 10 years of experience building all types of concrete sports courts, including basketball, tennis, and pickleball.
We take pride in our experience in constructing courts specifically tailored to meet the needs of pickleball professionals. Over the years, we have created top-notch pickleball courts for multiple professional players in Michigan, leveraging our in-depth knowledge of sports court construction.
If you want to transform your backyard and get a high-quality sports court, reach out to Spartan Sports Services. We are ready to make an inspection of your property and make sure it has enough space for the court of your dreams. Call or message us today for an estimate on concrete construction, sports surface acrylic coating, nets, hoops, lights, and more!